Our first tour was in 1993. We took 4 German guests on a tour with 12 Icelanders – family, friends, it was such a wonderful atmosphere. We realized then how much we love to show our country and way of living to visitors. Only one year later, we already organized 4 riding tours and went to Landsmót, the Icelandic horse championship with our guests.
Since that time, we go on tour every summer to enjoy the stunning landscapes on horseback. We usually start at Bjargshóll farm in the north of the country. In Miðfjörður, which is around 2,5h from Reykjavík by car, we have wonderful riding terrain – off the beaten track. We regularly ride to the beautiful "valleys" of the region dalir from there.
We still love every single tour we go on and look forward to always meeting new people with whom we can share our passion for riding, horses and outdoor activities.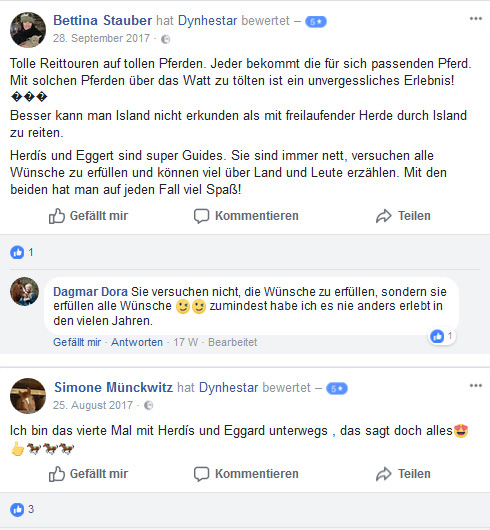 Eggert Pálsson
Manager / Owner
phone: +354-8932631
bjargsholl@bjargsholl.is

Sigrún Einarsdóttir
Owner

Herdís K. Brynjólfsdóttir
Guide / Marketing Mananger
phone: +3548612369
dynhestar@dynhestar.is

Katharina Ruppel
Accounting

Christina Merkel
Homepage/ Marketing